Regular courses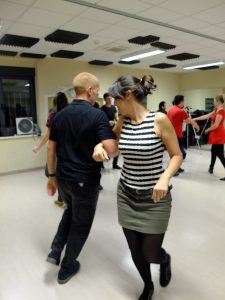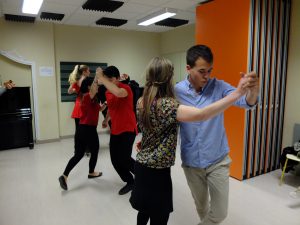 At Dame2Salsa we offer Cuban rueda (Cuban style salsa danced in a group) classes for several levels over 3-month intensive periods. All classes are one hour and are held once a week. These cuban rueda classes are taught at Progreso Musical, near Argüelles metro in the center of Madrid1. Instructions are given in Spanish, but English explanations can be given upon request.
Regular classes are 8€ per class and paid monthly, meaning that the total per month will depend on the total number of classes in that month.
Bear in mind that, as we mentioned in "Our classes", registration for our courses is closed most of the year, however since March 1st, registration is open for the April-June course. If you are interested in joining, please send us a WhatsApp message using the WhatsApp button, or an email at enable javascript .
Level 1 Cuban rueda
Schedule in need of confirmation. Send us a WhatsApp with your preferences!
Level 2 Cuban rueda
Group 1: Mondays from 9 to 10 p.m.
Group 2: Tuesdays from 9 to 10 p.m.
Level 3 Cuban rueda
Group 1: Tuesdays from 8 to 9 p.m.
Group 2: Thursdays from 8 to 9 p.m.
Group 3: Fridays from 8 to 9 p.m.
Level 4 Cuban rueda
Wednesdays from 9 to 10 p.m.
Level 5 Cuban rueda
Mondays from 8 to 9 p.m.
Level 6 Cuban Rueda
Group 1: Thursdays from 9 to 10 p.m.
Group 2: Fridays from 9 to 10 p.m.
Level 9 Cuban Rueda
Wednesdays from 8 to 9 p.m.
Rueda structures*
Thursdays from 10 to 11 p.m.
We will open registration for additional levels if the aforementioned groups become full. Please remember our groups are small (max 14-16 students), but these new groups will need enough students signed up and a balanced number of leaders/followers. So, if you want to join us but you can't fit Dame2Salsa in your weekly schedule, contact us! We may be looking to open new groups and you could be the one who makes the group happen.
Making up classes: If you are going to miss a class, it is mandatory to advise your teachers beforehand. In levels with more than one group per week, you will be able to make up the class with your same level that week. This will give you the advantage of not missing your class! However, if your level has only one group, you can only make up the class in a lower level.
You can reserve your spot by contacting us at enable javascript or using the WhatsApp button.
1: Thursday classes will be held at Parche (Calle Ayala, 120). These classes will be the same as those given at the academy (closed groups, intensive courses, balanced L/F classes), with the added benefit of social dance afterwards for additional practice. These classes cost 35€/month.
Which level am I?
As we have several levels, we are asked a lot which level you should join. This is a general idea about each level and who is it aimed for:
Level 1: If you have never danced, this is your course as we start from the very beginning. If you have danced salsa but not rueda (especially if you are dancing as a lead) we also suggest you to sign up for this level.
Level 2: If you have danced Cuban salsa or rueda and you know the basics (dile que no, enchufla, 70, etc.), start here. Also if you took salsa classes even if not Cuban salsa.
Level 3: If you have danced Cuban rueda and you are able to perform most basic moves with ease, this is your course, as we start to focus in good-looking rueda moves.
Level 4: Perfecting Rueda moves, overall dance technique and partner work.
Level 5: Musicality, rhythm and harder Cuban-style moves.
Level 6: Introduction to Casino style.
Level 9: Advanced rueda (Cuban and casino style), rueda-based transitions.
Everybody can join level 1, but in order to join any other level, you need to be assigned to a group. We will get together, dance some rueda and we will tell you which group you should join. Use the WhatsApp button or send us an email at enable javascript to schedule a group allocation!
*What are Rueda Structures?
In Cuban Rueda or Rueda de Casino, the "normal" structure consists of a couples facing the center of the circle, changing partners clockwise or counterclockwise depending on what moves are called. But, in reality, this is just the tip of the iceberg for Rueda fans. Rueda structures change that basic concept. They introduce variations of shape (lines, crosses, concentric ruedas, ruedas made up of mini ruedas), new ways of changing partners and roles, and even combinations of these variations.
Here's an example of a group doing combinations of various structures:
Other courses
From time to time, we do single-subject courses dedicated to other dances or a particular group of salsa moves. These courses are normally are shorter in duration (offered over a day or week) and we publish them on Facebook.
Private classes
If you want to hire Dame2Salsa teachers for private classes or a private event, please contact us: enable javascript