Upcoming events
September 20th, 2023
SUMMER MAY BE OVER, BUT DANCING ISN'T
We will officially say goodbye to summer just before the autumn equinox, but remembering that this doesn't mean dancing is over. In fact, for us, it will be the starting point of the 2023-2024 school year, which begins on Monday the 25th.
As always, we are delighted to organize free dance events in Madrid, but we must always remember that it is very important to leave the space clean.
This dance event will take place at La Ermita de Virgen del Puerto on the 20th at 8 PM, and, of course, it will be free of charge. We will also take the opportunity to make the latest group assignments.
---
Past events
Note that we only translated some of the events, click on the Spanish flag at the top right to switch the language to Spanish and be able to check all the events.
August 31st – September 3rd, 2023
Salsanor rueda congress 2023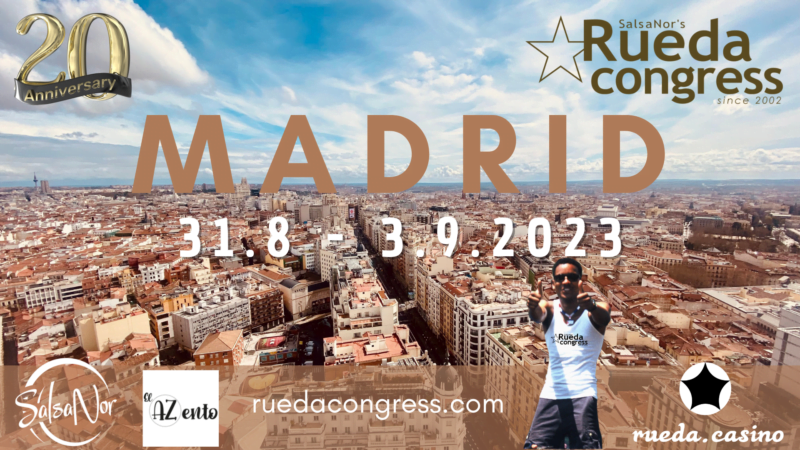 We will be teaching at the biggest and most important rueda congress in the world, Salsanor's Rueda Congress. Of course we will also immensely enjoy it with those who were fortunate enough to grab one of those full passes.
June 24th, 2023
2022-2023 End-of-Year Party
We will say goodbye to the salsacademic year with a dinner and subsequent dance to celebrate yet another year together with our salsafamily. We will make sure it is a memorable end-of-year event: contests, prizes, awards for the 22-23 course, some meneítos, and of course… we won't reveal everything ahead of time 😁😁😁 See you there!
20th-21st May, 2023
Ruedatón
On the weekend of May 20th and 21st, we will be organizing the Ruedatón de Madrid, following the models of the Ruedathon in New York and Paris. It's a city-wide tour where we will have multiple ruedas of different levels and much more! Check out the dedicated website for more information: http://ruedaton.es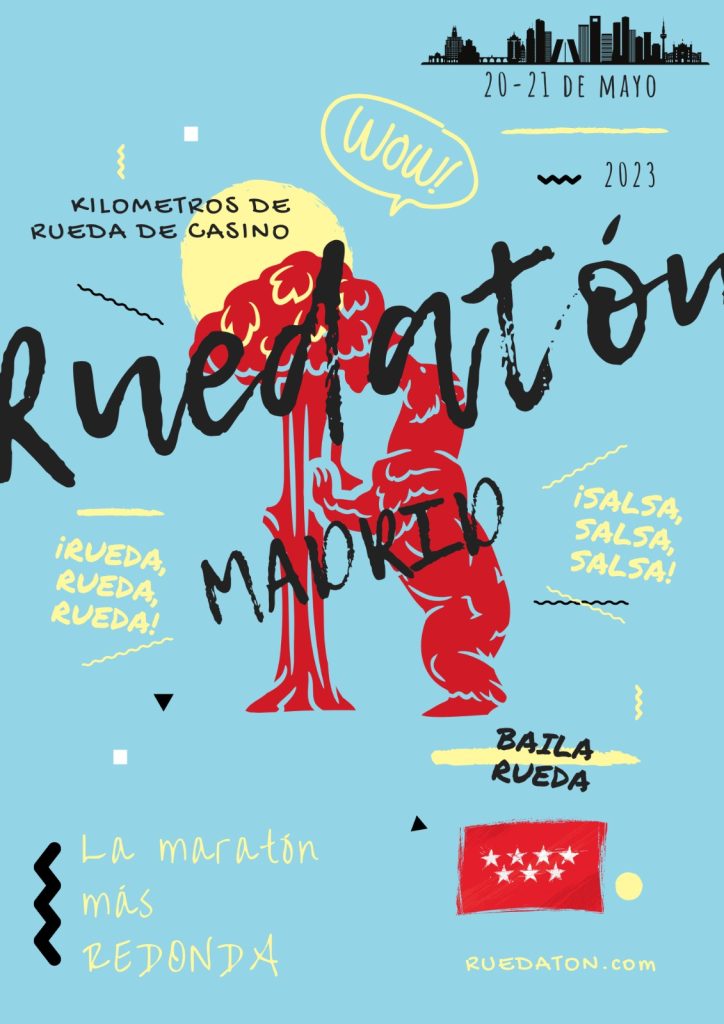 April 23rd, 2023
International Rueda de Casino Multi Flashmob
On Sunday, April 23rd, 2023 at 18:00 (local time), we will gather to celebrate the International Day of Rueda de Casino. Thousands of people will be dancing Rueda de Casino / Rueda Cubana in Asia, Africa, America, Europe, and Oceania. After the pause due to COVID-19, we are organizing this event again in 2023, following its success in 2019.
GENERAL INFORMATION: Once all participants have registered, all details of the event will be revealed. This is a FREE and INCLUSIVE event! We invite ALL schools to join, and anyone who can do basic steps of Rueda Cubana / Rueda de Casino is welcome! To sign up, please register as a couple (leader + follower) using this form.
DETAILS: If you would like to join the flashmob, it is essential to know certain basic Rueda moves. There won't be any complicated steps, as we want all salsa dancers from Madrid and surrounding areas to participate, so the moves will be the most common ones called in social Rueda. We have made a video with the moves:
Don't know how to dance Rueda de Casino yet? There's hope! We will be offering new intensive courses in April, and Dame2Salsa will prepare you for the next flashmob! Contact us by email (info@dame2salsa.com) or WhatsApp… ¡y que viva la rueda!
October 27th, 2022
Calling rueda de casino with flow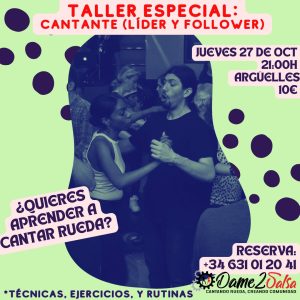 The world needs more Rueda de Casino callers, that's for sure! In this workshop, aimed at intermediate-level rueda dancers, we will teach techniques, perform exercises and routines. Essentially, you will learn to call a rueda  with flow, very enjoyable to join (no more 10 guapeas, figure, 10 guapeas...). It is a workshop open to leaders and followers, and we will give a bit of vocal technique so that you do not lose your voice while practicing.
Date and time: Thursday, October 27 from 9:00 p.m. to 10:00 p.m.
Place: Dame2Salsa (Argüelles Metro)
Price: €10
Level: Intermediate rueda level, you have to know how to execute steps such as enchufla, prima, dame, enchufla y cero, etc.

Language: Spanish
Stay tuned on Facebook!
September 24th, 2022
Noche de Salsa – Start of the salsaschool year 2022-2023
We will be near the stairs at the Ermita Virgen del Puerto, from 9pm onwards, playing good music, dancing, doing some ruedas and, above all, celebrate the start of the school year 22-23 on the right foot (or left if you are a follower).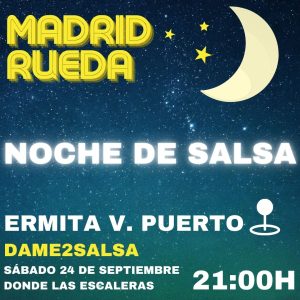 June 11th, 2022
End of the 21-22 school year party
We'll end the school year with a dinner and party right after. We'll reminisce about the highlights of this 21-22 course (and get emotional about it), a year when we finally opened after being closed for 18 months in order to avoid spreading of COVID-19. Games, contests, meneítos and, above all, so many laughs and ruedas… Guaranteed!
May 22nd, 2022
Rueda exhibition at the Elías Ahuja university residence hall theater
We put together some of level 5.5 students and we prepared a small rueda choreography to participate in a Bollywood and other dances festival. This event is organized by Luz de Brishna on May 22 at the university residence theater Elías Ahúja from 6.30 pm onward. Some of our students will also participate as part of other dance groups, so everything will be awesome and we know it. Please contact Luz de Brishna directly to get some tickets!
October 5, 2019
Special workshop – Rueda Equis with Diego and Noe – Dame Five Salsa

Another CELEBRITY Rueda workshop! This time, Diego and Noe, the globetrotting dynamic teacher duo and creators of High Five Salsa in the UK, are coming to teach their very own new rueda structure, RUEDA EQUIS, created in colaboration with Sassan (Berlin classes – Salsa Sassan).
Time: Saturday Oct. 5, 2019 6.30 to 8.30pm
Place: Acting (Metro Argüelles / Ventura Rodríguez)
Price: 14e
Level: Basic rueda knowledge required
Language: Spanish
Diego and Noe will challenge you and keep you in stitches. Don't miss this opportunity to learn a fun new Rueda structure from the creators themselves! If you don't believe us, just ask those D2S students who got a sneak peak this summer at the Salsa Nor Congress. It's a fun, accessible, mind bending and egalitarian structure. What more could you ask for?
Rueda EQUIS doesn't have leads or followers, but Leadowers! Therefore, it will always help if you have basic knowledge of both roles, althout it is not required.
Sold out!
And remember, Dame2Salsa + High Five Salsa = Dame Five Salsa 
September 29th and 15th
100% Salsa 100% Gratis – Vuelta al Cole 2019 Parte I & II
Sundays 29th and 15th we will dance rueda and salsa in Retiro Park in a 100% free and 100% salsa event. We will be dancing to great music, a mix by DJ la Pantera Barcelona / Street Timba BCN. while we dance ruedas from all levels so everybody can dance. We will also tempt you with minicontests to win miniprices. Our main goal is that everybody ends the summer with a smile on their face.
Where? Very close to the Ángel Caído fountain, Retiro park
When? Next event will be on Sunday the 29th, from 7 to 10.30 pm.
Who is it for? For everybody! We just ask you to make sure we don't leave trash behind after the event is over. Retiro park is for all to enjoy and we all have to take care of it!
+info: Check the event on Facebook! These are the flyers for each day: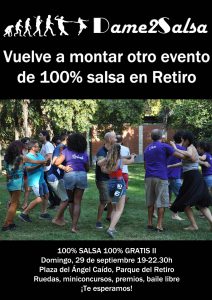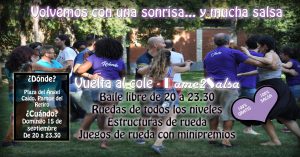 May 25, 2019
Special workshop – Caminando with Sassan

SOLD OUT!
March 30, 2019
World MultiFlashmob 2019
Welcome to the International Rueda de Casino Multi Flashmob Event! On Saturday, March 30, 2019 at 4pm, thousands of people will be dancing Rueda de Casino/Rueda Cubana at their local time, across Asia, Africa, the Americas, Europe, and Australia. Last year alone, there were ruedas in over 200 cities! Madrid is ready join this unique global event!
GENERAL INFO: The date and time for the International Multi Flashmob is public, but the exact location is not. Remember, it's a flashmob! Once everyone has signed up, full details will be revealed. This is a FREE and INCLUSIVE event! We invite ALL schools to join us and EVERYONE who can do basic Rueda de Casino is welcome! To sign up, you need to register on FB as a pair (leader + follower) by both clicking ¨attending¨ and sending a message to the organizer with contact details (preferably whatsapp#). Don't have a dance partner? Write a comment in the group to try to find one!
DETAILS: To join the flashmob, it is essential to know basic rueda moves. We will try to keep it simple (e.g., only the most typical moves called in a social) so that as many salseros in and around Madrid can participate. The final list of moves is still TBD, but we will publish it in advance so that you can practice or ask us if you do not know some of the steps. Don't know Rueda de Casino yet? There's hope! We are starting new intensives courses in April. Dame2Salsa will get ready you for the next flashmob! Contact us via FB or email (info@dame2salsa.com) y…Que viva la rueda!
December 16 2018
Winter Flashmob
Puerta de Alcalá
6-6:30pm Christmas Flashmob with 30 students
Templete del Retiro o Casa de Vacas (Plaza Nicaragua, 12) Metro Retiro
6:30-7:30pm Holiday Party and Social Dance
October 27th 2018
 "Siempre vacilando" workshop
New variations of vacila and vacílala to help leads and follows review similar steps.
In order to sign up, you will have to know vacila/vacílala. We will, however, review those at the beginning.
When: From 4.30 to 6 p.m.
How much: 12€ for an hour and a half. Dame2Salsa currently enrolled students will only have to pay 8€.
September 22nd 2018
Salsa + Food + Salsa + MORE Salsa!
(Photography: Juanpics)
FREE salsa ALL day and welcome back party in Distrito Retiro!
Centro Cultural Daoíz y Velarde  (Av. De la Ciudad de Barcelona 162) Metro Pacífico
12-15:30 Salsa Libre organized by La Malanga
Templete del Retiro o Casa de Vacas (Plaza Nicaragua, 12) Metro Retiro
16:00-17:30 Welcome back picnic!
18:00-18:30 Level Tests and Ruedas
*18:30-19:30 Salsapiens Info Session: First info and mini practice session for new Dame2Salsa dancers interested in trying out for our competitive team for the Liga de Rueda Almazenada in 2019.
*Open for students who have completed Level 2
Bachata workshop May 20 and 21 – 2017
Join us and learn bachata in this two-hour workshop. We'll go over basic the steps, lots of moves, and some differences between bachata and bachata sensual.  We'll pull everything together with a series of moves. The price for this two-hour workshop is just 10€. Exclusive for Dame2Salsa students.