Did you know? After giving classes for years, we decided to start a project to teach and revitalize Cuban Rueda and Rueda de Casino in Madrid –  Dame2Salsa! A founding principle was to use a standard (Rueda Standard). That way, all of our students can dance together all over the world, regardless of skill level or language. That tenet alone has influenced many rueda adventures this past year!
January 2018: Sporty Rueda Almazenada
We started the year with one new project in mind. We set out to train a group of 18 students to compete in our favorite sporty-rueda memory challenge: La Liga de Rueda Almazenada, invented by our friend Enrique Solla. While not as stress free as an improvised rueda, we love the challenge and accessibility of it, especially the standardized practice it gives to our students. One day, this game will be its own standard! 
June 2018: Rueda competition
This past spring, some of our students decided to piece together many standard moves (and some inventions of their own) to compete in a local rueda competition. Working from a standard not only helped their choreography and creativity (look at that tunnel!), but made it accessible for people watching. We are so proud of them!  
August 2018: Ruedas in the sand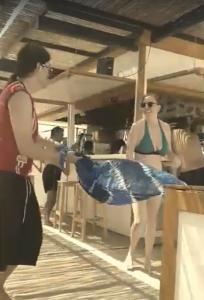 We spent most of August on the coast of Alicante disconnecting from city life, and trying to connect with fellow rueda lovers. While most of the local salsa scene revolves around línea style, we set out to find the Cuban style dancers with our siren call of rueda. With just one Rueda, we immediately attracted other Cuban dancers and rueda lovers who normally never get the chance to practice. They even taught us some hysterical local moves (e.g., enchufla peter pan)!
September 2019: World Rueda Congress
We've died and gone to Rueda standard heaven.  All we can say is that this felt like a support group for rueda addicts. We learned so much (workshops, experimental labs, socials) and met so many new friends. We can't wait for 2019, 2020, and basically every year until we die.
September 2018: Rueda in the Park
To kick off the new salsademic course, we held a free event in Madrid's Retiro Park for students and any salsa dancers who wanted to picnic and dance. Every couple of songs we called a rueda and lots of veteran dancers, who were new to it, joined in. Our favorite part of the day was when one of them said that they were amazed at the ¨good vibes¨ (buen rollo) our group had. Of course! When you dance rueda, change partners, and call silly moves, you're bound to be in a good mood! 
October 2018: Back to school!
This year we've welcomed students from all over the world to our school in Madrid. They don't just come from Spain, but from all across Europe, Asia, the Americas, and Austrailia. If they ever leave us, we can, at least, be consoled by the promise that they'll continue to spread Rueda around the world. No matter where you are from, you can learn salsa!
December 2018: Hungary for Rueda
After our first Christmas rueda, we went to close out 2018 in Budapest. And, as on any trip to a new city, we were really eager to check out their local salsa scene. While we found people were a little shy asking each other to dance, that all ended when we started rueda! After just one full of standard moves, many wanted to join. We even joined in a bigger rueda called by the house singer, who used 90% standard and only a few local favorites. Maybe one day they will even become standard, who knows!
January 2019: Rueda love is in the air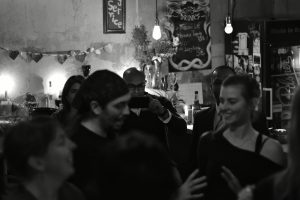 We are closing out our year-long Rueda journal with lots of great Rueda memories and milestones, including some recent ruedas in Berlin, our first wedding Rueda (complete with newlyweds), and the news (and honor) of representing Madrid in the world rueda flashmob (in March)! Check out the details on our events page!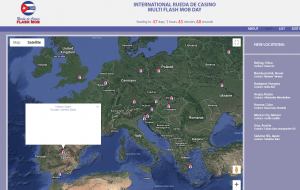 We are more energized than ever! Stay tuned for 2019… y que viva la rueda!